Key Lock & Lantern Convention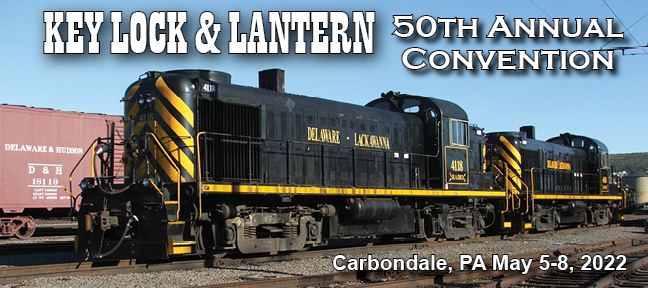 2021 Key Lock & Lantern Convention

Rescheduled to August 13-15, 2021 - Carbondale, PA

The 2020 Key, Lock & Lantern Convention will be combined with our 2021 convention on August 13-15, 2021 at the Hotel Anthracite in downtown Carbondale, PA, a short distance outside of Scranton, PA. Activities include an excursion on the scenic Stourbridge Line railroad, the Transportation History Exposition, railroadiana fundraiser sale, a banquet with railroad history presentations, visits to local museums, and plenty of time to meet with fellow collectors and transportation history buffs. All railroad & transportation enthusiasts and collectors are invited to attend. Join us for an enjoyable weekend!

Hotel Reservations are now open at the convention headquarters Hotel Anthracite, with a special KL&L rate of $109 per night plus tax. This is a smaller hotel than past conventions, so make your reservations early. Call the hotel at 570-536-6020 and ask for the Key Lock & Lantern rate. Make certain to speak to someone at the hotel - the website and reservations service will indicate that no rooms are available, since they are blocked for use by KL&L members.

2021 Key, Lock & Lantern Convention Schedule

Thursday, August 12, 2021

3:00pm - Hotel Check-in for early arrivals.

Arrive early to check out the historic Alco Locomotives on the D-L Railroad, visit Steamtown, the Electric City Trolley Museum, and the Marketplace at Steamtown.

Friday, August 13, 2021

10:00am - Visit Local Historic Sites & Wayne County Historical Museum on Your Own.

12:45pm - Train Excursion on the Stourbridge Line from Honesdale to Lackawaxen, PA, returns at 4:30pm.

6:00pm - Dinner on Your Own

7:00pm - Room Hopping / Early Trading

8:00pm - Key, Lock & Lantern Board Meeting

Saturday, August 14, 2021

7:30am - Setup & early admission for registered members to the Transportation History Expo.

9:00am - Transportation History Exposition at the Hotel Anthracite banquet hall opens to visitors.

12:00pm - Box lunches served to registrants who order them. Local restaurants open for other attendees.

2:00pm - Key Lock & Lantern Annual Meeting, award presentation, and Fundraiser Sale.

3:00pm - Transportation History Expo exhibits close.

5:00pm - KL&L Annual Banquet - cocktail hour followed by dinner served in banquet room.

7:00pm - Railroad history programs in Hotel Anthracite banquet room.

Sunday, August 15, 2021

8:00am - Informal breakfast with other KL&L members at the hotel.

Open schedule to visit Steamtown and other local attractions.

6:00pm - Informal dinner for those staying over Sunday night.

If you have any questions, contact KL&L President Dave Hamilton at transportsim@aol.com or KL&L Chairman John Brainard at j944wb@aol.com

Please See Convention Policies on Registration Page.

Key, Lock & Lantern holds its annual meeting and convention each year in the northeast, where the group's first railroadiana swap meet was held in 1973. The KL&L Convention is different from railroad hobby shows, as it is a smaller gathering of serious historians and collectors, where sharing knowledge is equally as important as trading memorabilia. While a fair amount of railroadiana changes hands at the swap meet and auction, the most valuable aspects of the convention are the educational and networking opportunities. Photos of recent conventions are posted on our Facebook Page & Flickr Page.
The Following Links Are Paid Advertisements