Key Lock & Lantern, Inc. is a non-profit 501(c)(3) organization dedicated to the preservation of transportation history & memorabilia. Our mission is to gather and publish information about railroad, transportation & industrial history, and to support the conservation of all types of memorabilia, including historical artifacts, photos, records, and stories. Historians and collectors are invited to browse our website, download free newsletters about preservation, and utilize our other online resources. In addition to receiving the digital newsletter directly by e-mail, Key Lock & Lantern members also receive a quarterly printed journal, with in-depth articles about railroad history and preservation, and an invitation to participate in the annual KL&L Convention. Anyone with a serious interest in railroad or transportation history and collecting will benefit from membership in Key Lock & Lantern.

Thanks to all of our members for making the 2019 Key Lock & Lantern Convention a success! We plan to return to Scranton next spring for the 2020 Convention. Watch our Convention Page for announcements.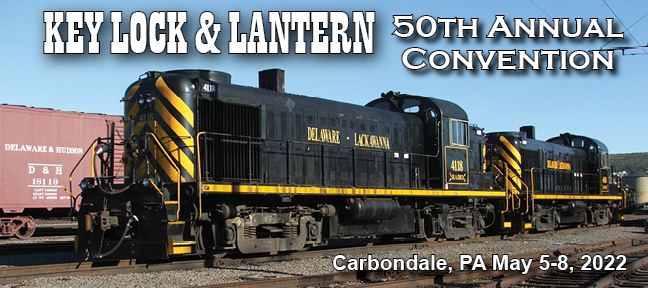 The Mar/Apr 2019 issue of the digital KL&L News is available for viewing, with articles about the upcoming KL&L, New York Central, and Pennsylvania Railroad conventions, the recent Railroad Memories auction, the Union Pacific Golden Spike celebration, and reports from recent train & railroadiana shows, along with upcoming event schedules & want ads. Visit our Publications Page to view and download the current edition of the digital KL&L News (and past editions). The free Adobe Acrobat reader is required.

Issue #180 of the Key Lock & Lantern Magazine is the current edition. This issue contains articles about The Old St. Paul's Church bell, Sullivan key reproductions, USRA railroad police badges, The Northern Pacific baked potato, a PS&N globe mystery, the Corbin switch lock, New York Central memorabilia, photos from along the line & more. Issue #181 is currently in production.

The Key, Lock & Lantern Advertising Guide from the 2013-2014 membership year remains in effect, with no increase in rates. Our rates have remained the same, but we have also introduced a new discount program, with savings of up to 20% for repeat advertisers. With over 1200 unique monthly website visitors, over 1000 Facebook followers, over 700 newsletter readers, and a magazine press run of 400, KL&L offers a wide variety of ways to reach a broad audience of railroad history buffs and collectors!
The Following Links Are Paid Advertisements